Our aromatherapist working on this DIY wanted to call these our, "Boss-$@& Cleaning Sprays". We decided maybe we should be a bit more kid-friendly and, "Forest Fresh Cleaning Spray and Window Cleaner" was the result. But as far as DIY cleaners go, these ones truly are "boss".
With so many of us stuck inside nowadays, the outdoorsy fragrances of Pine, Tea Tree, Fir Needle, Lavender, and Black Spruce can really spruce up your living/workspace. Use these cleaning sprays to bring the fresh scent of the forest indoors!
DIY Forest Fresh Cleaning Spray
With this working-from-home lifestyle, your desks and counters might be collecting coffee rings and wine splatters at a much higher rate than usual. If you have kids stuck at home, you might really be looking for alternative means to get things clean. With Black Spruce , Pine, Lemon, and Tea Tree essential oils, this cleaning spray will do the job and leave your house smelling fantastically fresh.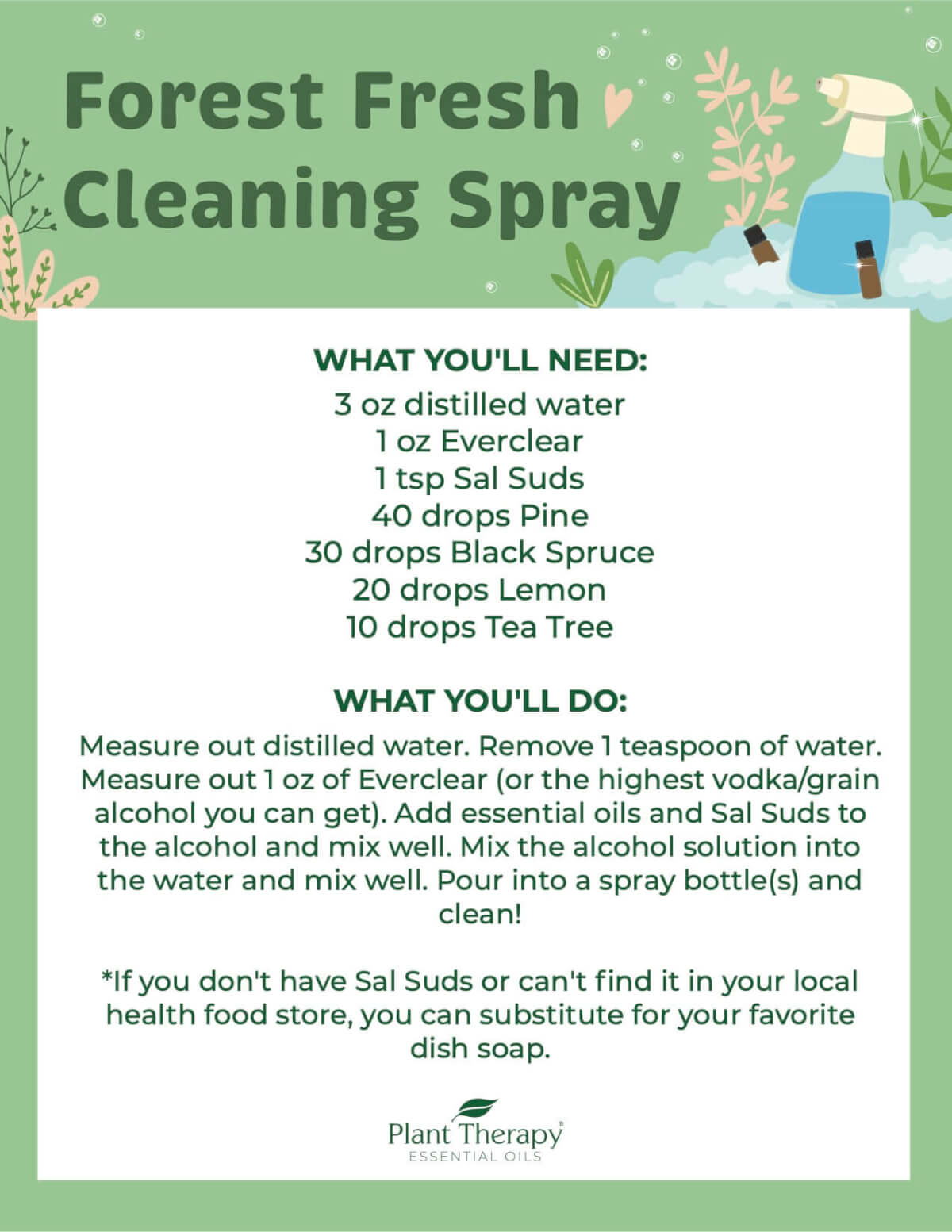 What you'll need:
What you'll do:
Measure out distilled water then remove one teaspoon of it. Measure out 1 oz of Everclear (or the highest vodka/grain alcohol you can get). Add essential oils and Sal Suds to the alcohol and mix well. Mix the alcohol solution into the water. Pour into a spray bottle and clean (with gloves on).
*If you don't have Sal Suds or can't find it at your local health food store, you can substitute it for your favorite dish soap.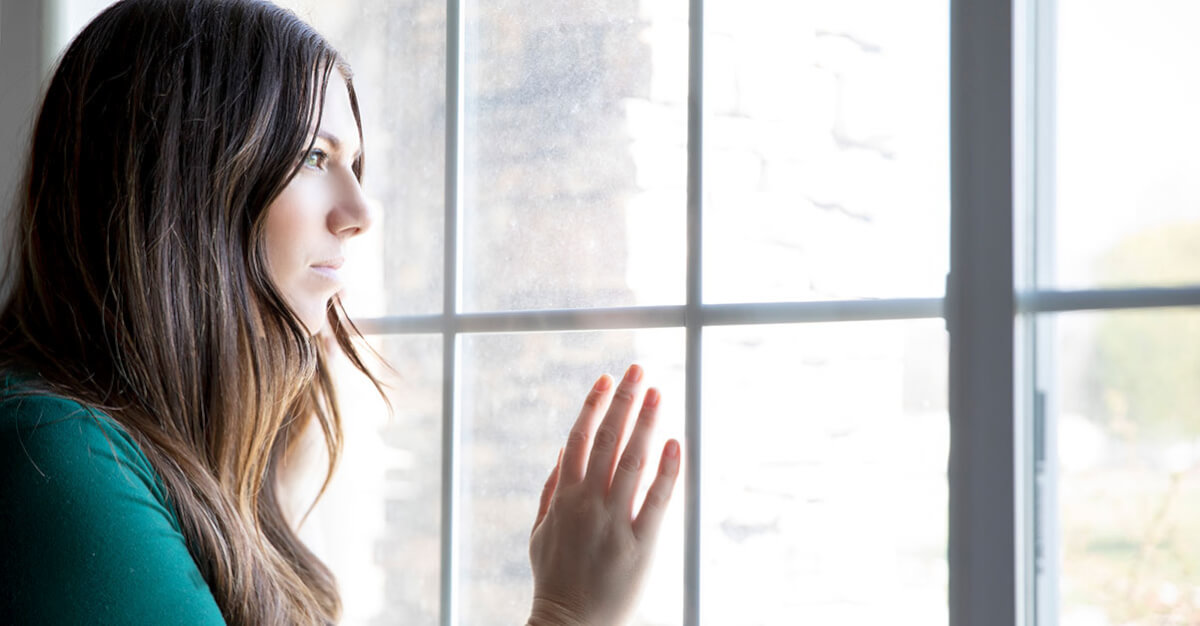 DIY Forest Fresh Window Cleaner
Every time you place your palm against the windowpane and gaze longingly out into the real world, you're likely leaving smudges and prints behind. Hopefully, we aren't stuck inside for too much longer. But in the meantime, use this Forest Fresh Cleaning Spray to get rid of unsightly smudging. With Fir Needle, Lavender, and Lemon essential oils, this Forest Fresh Window Cleaner smells phenomenal.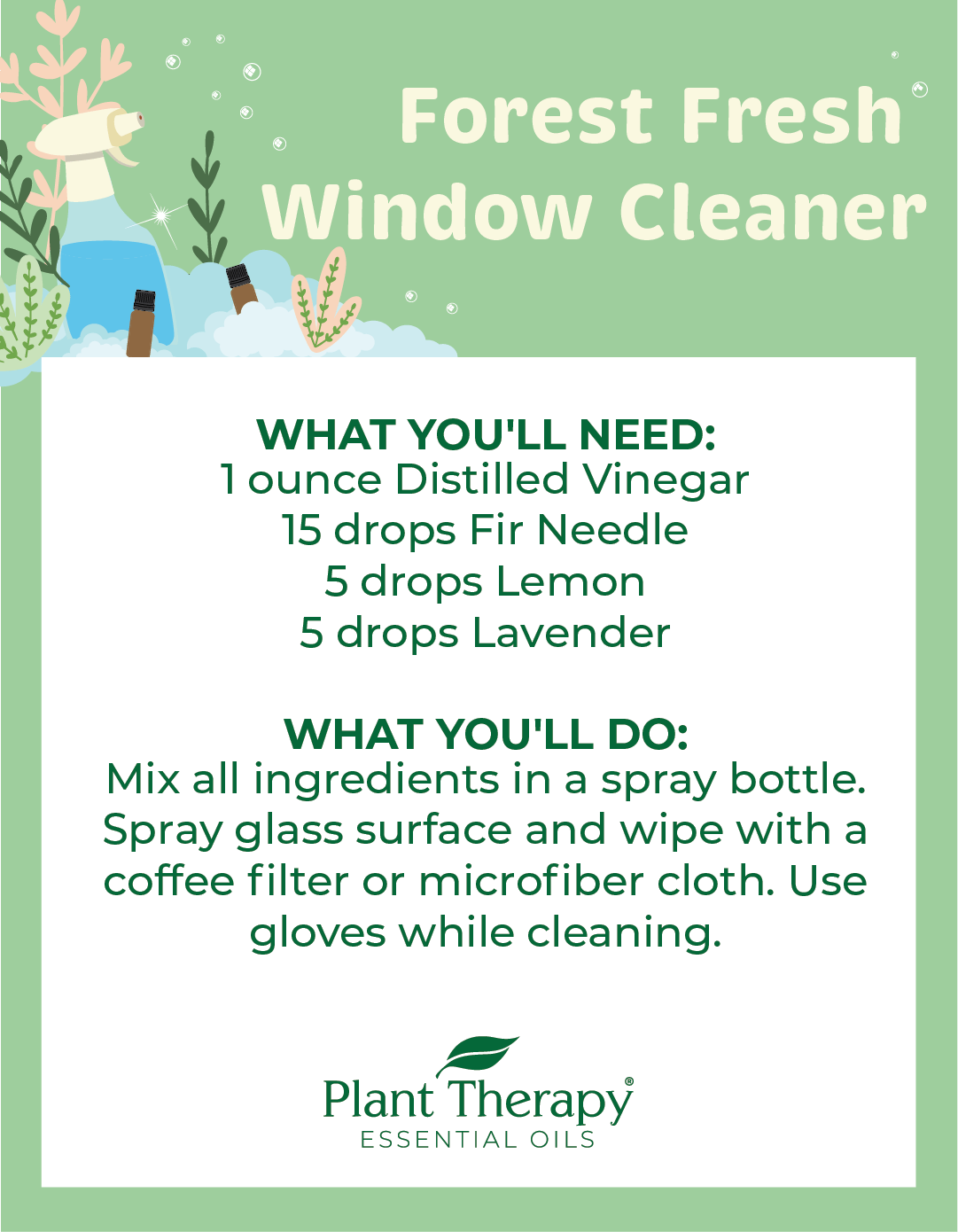 What you'll need:
What you'll do:
Mix all ingredients in a spray bottle. Spray glass surface and wipe with a coffee filter or microfiber cloth. Use gloves while cleaning.
by Plant Therapy